Treatment Options
Maxillofacial Surgery
Maxillofacial surgery is a speciality of surgery/dentistry concerned with the diagnosis and treatment of diseases affecting the mouth, jaws, face and neck .The scope of the specialty is extensive . This includes :
Dentoalveolar Surgery
(removal of impacted and buried teeth, cysts, etc)
Orthognathic surgery
(for the correction of facial deformities)
Before
After

Before

After

Before

After

Before

After

Before

After

Before

After
Facial Trauma surgery
(repair of fractured facial bones and soft tissues)
Before
After
Head and neck cancer surgery
(removal of tumors of the head and neck region)
Before
After
Cleft lip and palate surgery
Cleft palate repair
Alveolar bone grafting with dental implants
Cleft rhinoplasty
Implant surgery
(to replace missing teeth, ears and eyes with prosthesis that are anchored in the bone. Hearing aids can also be fixed to bone permanently)
Preprosthethic surgery
(bone augmentation via bone graft from hip or skull)
Facial plastic surgery
(rhinoplasty, otoplasty, facial implants, blepharoplasty)
Temporomandibular joint surgery
(jaw joint surgery)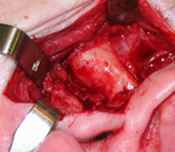 Salivary gland surgery
Parotid surgery
Submandibular gland surgery
Treating infections of the head and neck region
Maxillofacial surgery is a relatively new speciality and has started becoming more well known only in the last few years.
Proper and specialized training in this field of surgery (Maxillofacial) is important as it deals with the face. Any facial deformity due to trauma, congenital , acquired or any other cause can impart a high degree of emotional as well as physical trauma to the patient. Extensive "hands-on" training is vital.
Dr.Shanker Mohan has undergone extensive training in this speciality and his results speaks for itself. This expertise in now available at our centre. All the above mentioned surgical procedures are being done at our centre.